Business Philosophy
Pro Music's business philosophy has remained steadfast since its early days:
1) To provide superior quality products at competitive prices.
2) To provide expert knowledge and technical support with every sale.
3) To give our customers what we wanted, when we were music store customers ourselves. Great customer service!


---
General Product Range
• P.A. Systems
• Power Amplifiers
• Instrument Amplifiers
• Speakers
• Monitors
• Mixers
• Digital Effects
• Signal Processors
• Equipment Racks
• Microphones
• Wirelesses
• Gold Prospecting Equipment
• Gold Trommels
• Gold Dredges
• Gold Highbankers
• Gold Pans
• Metal Detectors
• Pro CD Players
• Digital recorders
• Multi-Track Recorders
• Computer Interfaces
• Tuners
• Drums
• Guitars
• Electronic Pianos
• Synthesizers
• Mic Stands
• Accessories
• Installation Packages
• Sound System Design

---
Business History
Pro Music was established in 1988 in Fairbanks, Alaska. In 1992 "Professional Music", as it was named in the early days, officially changed its name to Pro Music, Inc.; and its status as a sole-proprietorship, to a small corporation. We have an independent teaching staff of music teachers to provide educational services. While most instrument repairs are done in-house, Pro Music continues to have a close working relationship with Chris Kilgore of Stringworks, to effect repair/warranty work outside the scope of that handled in-house at our store.
---
Return Policy
We want to make sure that you are completely satisfied with your purchase. If for any reason you are not satisfied with your order, you may return your unused article of merchandise within thirty (30) days from the date of delivery. Pro Music offers no exchange before sending your article of merchandise back to us. Please make sure that all of the following conditions have been satisfied correctly.

The items you wish to return:
• Must be accompanied by an original receipt and a Return Authorization (RA) number issued by Pro Music by calling (800) 478-1994.
• Must be unused and not damaged
• Must be returned complete of all of its parts, paperwork, and accessories
• Must be sent in its original packaging
• Must be shipped from the United States

If all of these conditions are satisfied, we will refund your order value, less any restocking fees and original shipping costs. We charge up to a 20% restocking fee on each returned item. Return shipping is the buyers responsibility and must be insured. We will not issue any refunds for returns that do not satisfy all of the conditions indicated above. You will have the option to request within thirty (30) days of being notified that you are not entitled to a refund, that your merchandise be shipped back to you, at your own cost, in the condition in which it was received by Pro Music. If you do not request the return of your merchandise within said thirty-day period, Pro Music will be entitled to dispose of such merchandise at its sole discretion.

All sales of harmonicas, pitch pipes, slide whistles, jaw harps, reeds, recorders, and items with computer software included are FINAL.

All defective products will be handled on an individual basis. Please contact our Customer Service Department at (800) 478-1994.

We reserve the right to change our return policy at any time without notice.

Gift Certificates are not redeemable for cash.

Please take all the time you need to assure yourself that what you are purchasing is really what you want. We will be glad to assist you in any way possible. We do appreciate your business.


---
Pro Music Reviews
Pro Music Customer Reviews See what customers think of Pro Music's service.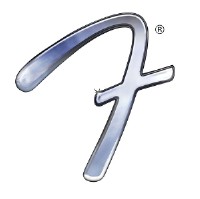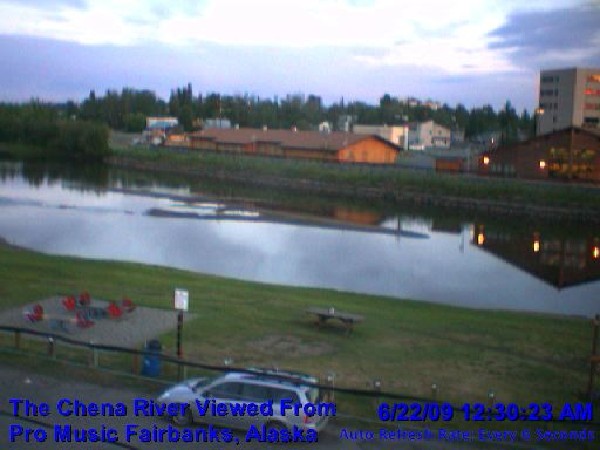 The Chena River On Solstice At Midnight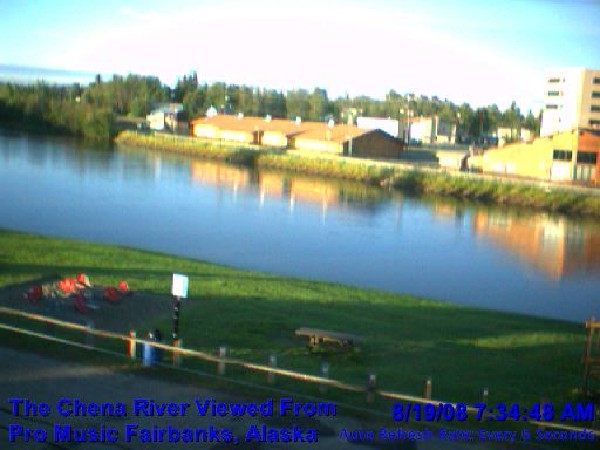 Pro Music Webcam View Of The Morning Sun



Pro Music Webcam View Of A Sunny Day



Pro Music Webcam View Of A River Sunset




Time Lapsed Video Of The Last 24 Hours Of The Pro Music Webcam