ACCESSORIES
FOOTSWITCH: 2-Button Footswitch Included
ELECTRONICS
VOLTAGE: 120V
WATTAGE: 22 Watts
CONTROLS: Normal Channel: Volume, Treble, Bass. Vibrato Channel: Volume, Treble, Bass, Reverb. Vibrato: Speed, Intensity
CHANNELS: Two – (Normal and Vibrato)
INPUTS: Four – (1/4″, Two Normal and Two Vibrato)
SPEAKER JACK: Two 1/4″ Parallel (Internal and External)
HARDWARE
CABINET MATERIAL: 7-Ply 5/8″ Birch Plywood
AMPLIFIER COVERING: Black Textured Vinyl
GRILLE CLOTH: Silver
AMPLIFIER JEWEL: Red Jewel
FRONT PANEL: Blackface™ Style
HANDLE: Molded Plastic Strap with Nickel-Plated Caps
SPEAKERS
SPEAKERS: One – 12″ Jensen® C12K with Ceramic Magnet
TOTAL IMPEDENCE: 8 ohms
TUBES
PREAMP TUBES: 4 x 12AX7, 2 X 12AT7
POWER TUBES: 2 x 6V6
RECTIFIER: Tube (1 x 5AR4)
MEASUREMENTS
LENGTH (IN INCHES): 9.5
HEIGHT (IN INCHES): 17.5
WIDTH (IN INCHES): 24.5
WEIGHT (IN POUNDS): 42
UPC 717669051815
Price: $1,599.99
SKU: 4800
Categories: Instrument Amps
Tags: Guitar Amp
Product Short Description :
Played on countless hit recordings for decades now, the mid-'60s Deluxe Reverb is a timeless Fender classic and one of the most indispensable workhorse guitar amps ever made. Moderately powered and producing a full, snappy and crystalline tone revered in studios from Muscle Shoals to Abbey Road and on stages worldwide, it's a must-have tone machine. Today, the '65 Deluxe Reverb is still one of the coolest amps around, with the fantastic sound and vintage mid-'60s style still prized by rock, blues and country players everywhere. A classic then and a classic now.
FEATURES
22 watts
12" Jensen® C-12K speaker
Two channels (normal, vibrato)
Four inputs (two normal, two vibrato)
Tube-driven Fender reverb and tremolo ("vibrato")
Classic Fender look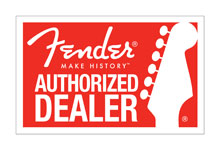 Product Gallery: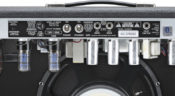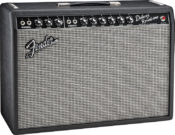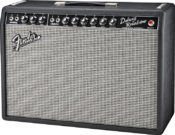 Customer Service Is Our Top Priority!