Toca Players Series Bongo Set, Easy Play Styled Hoop, Natural, 2600N
The perfect place to start. Get Toca quality at entry-level prices.
7″ & 8-1/2″ Heads
Four countersunk carriage bolts on each sideplate
Eight lugs
EasyPlay Hoop
Fully tucked bison heads
Natural Finish
Matching congas available
UPC 00736021592780
Price:
SKU: 4509
Categories: Drums & Percussion, Miscellaneous Percussion
Product Short Description :
Players Series Bongo Set, Easy Play Styled Hoop, Natural
Toca is committed to being green and environmentally-friendly. The wood we use is harvested from a plantation in Thailand, where our drums are then lathed and handcrafted by local musicians. This carefully managed resource is much easier on the environment than wood taken from primary forests.
Product Gallery: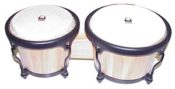 Customer Service Is Our Top Priority!