One of the easiest ways to change the look of your Fender instrument is to replace the pickguard. This pickguard fits American, American Standard, American Deluxe, American Special, Highway One™, Road Worn®, Deluxe Player, Blacktop, Standard, Deluxe and Modern Player series Stratocaster guitars with three single-coil pickups (also fits Squier® Standard series Stratocaster models 2004-present).
Part#: 0992142000
UPC 717669447151
Price: $64.99
SKU: 3889
Categories: Guitar Parts
Tags: Guitar Supplies
Product Short Description :
FEATURES
Available in multiple color options
11 mounting-screw holes
Shielded
For a variety of modern Stratocaster models with three single-coil pickups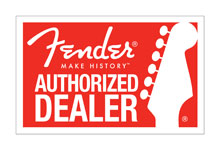 Customer Service Is Our Top Priority!