Lock button replaces most screw type endpin buttons and strap connector secures to most straps. A quick, pull button release separates strap easily from guitar. Two units/2 pcs. each.
The Original! Ingenious design, superb materials and outstanding quality define our worldwide market leader.
For decades the most popular strap lock system for guitar and bass
Protects your instrument by preventing accidental release of strap
Including high-grade felt washers for ultimate protection of guitar's finish
Including additional pair of extra-log screws for use on Gibson models
Price:
SKU: 0322
Categories: Guitar Parts
Tags: Guitar Supplies
Product Short Description :
The original! Brillant design and superb materials guarantee the unique quality of our leading product. Our Schaller Security Locks can generally also be used on acoustic guitars with no problems, provided that the Security Locks are screwed into the frame reinforcement and not into the open frame.
Gold:  Part# 14010501
Product Gallery: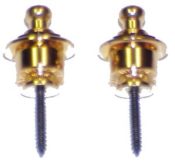 Customer Service Is Our Top Priority!