Description:
Your acoustic and classical guitars deserve to be protected.They are investments that require steps to ensure their value grows over time. The Kyser® Lifeguard™ Humidifier does just that. If you store your guitar in a dry area, simply immerse the Kyser® Lifeguard™ Humidifier in water, shake off excess, and then position it in the sound hole. It will preserve the wood on your guitar by keeping conditions at the proper humidity. The Acoustic Humidifier fits sound holes 3 3/4″ to 4 1/8".
Model Number: KLHA
Price:
SKU: 0329
Categories: Guitar Accessories
Tags: Guitar Supplies
Product Short Description :
For standard-sized acoustic guitars. A very essential item for proper maintenance of acoustic guitars. Most manufactures will not warranty repairs needed due to dehumidification, so protect your investment now.
Product Gallery: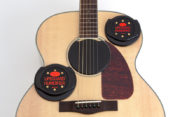 Customer Service Is Our Top Priority!