Made from black poly webbing, these 2″ straps feature the Fender logo embroidered in Grey.
Thanks to an assortment of quality features and heavy-duty construction, this 2" black polyester strap is as striking as it is functional.
Part#: 0990662043
UPC 717669495428
Price: $13.99
SKU: 3943
Categories: Guitar Accessories, Straps
Tags: Guitar Strap, Guitar Supplies
Product Short Description :
FEATURES
Fully adjustable length (31"-54") provides a versatile fit for most players.
Extra strap pocket stores additional guitar picks conveniently and efficiently.
Embroidered Fender logo and embossed logo on strap ends adds a shot of classic style. Logo available in white, grey, red or yellow.
Reinforced leather ends keeps strap stable and secure.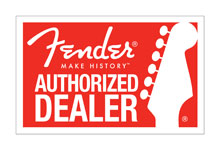 Customer Service Is Our Top Priority!