There's no better way to simultaneously maintain optimal comfort and timeless Fender style than this durable woven 1 7/8" wide guitar strap.
Part#: 0990671000
UPC 717669445966
Price: $19.99
SKU: 1826
Categories: Guitar Accessories, Straps
Tags: Guitar Strap, Guitar Supplies
Product Short Description :
FEATURES
Fully adjustable length (30"-51") provides a versatile fit for most players.
Reinforced leather ends and polyester backing provide durability and stability during every performance.
Contrasting white stitching and Fender logos deliver an all-around traditional look.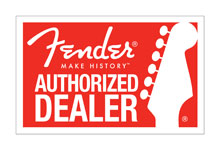 Customer Service Is Our Top Priority!