Passport CONFERENCE is ideal for an array of applications, including education, sporting and worship events; meetings, seminars and presentations; and gigs at parties, small clubs and coffeehouses.
When you need a portable PA system, go with Fender Passport and go with the original. Fender Passport—Sound that Travels
Model Name: Passport® CONFERENCE, 120V, Black
Model Number: 6945000000
Series: Passport®
Color: Black
Amplifier Type: Class-D
Controls: Tone Control on Each Channel, Volume, Master Volume, 20db Pad
Voltage: 120V
Wattage: 175 Watts
Inputs: Nine – (Three XLR, Five 1/4″, One Stereo 1/8″)
Headphone Jack: 1/8″ Stereo wtih Level Control
Line Out: One – (1/8″ Stereo with Level Control)
Speaker Jack: Two 1/4″ Left and Right (Stereo)
Channels: Five – (Three Mic/Line, One Stereo 1/4″ Line)
Horn Tweeter: Four – 2.75″ Articulated HF Tweeters
Cabinet Material: Molded Plastic
Handle: Integrated Top-Mount Handle
Front Panel: High Contrast for High Visibility in Low-Light Conditions
Amplifier Depth: 10″ (25.4 cm)
Amplifier Width: 25″ (63.5 cm)
Amplifier Height: 19″ (485 mm)
Amplifier Weight: 30 lbs. (13.61 kg)
Speaker: Two – 5.25″ Woofers
Unique Features: 175 watts of power—ample for small to medium-size audiences, International voltage operation (100V-120V / 220V-240V), Five-channel mixer lets you intuitively mix lecture panels and small musical ensembles, XLR and 1/4" mic/line inputs for flexible source connectivity, Volume and tone controls—custom tailor your mix on each channel, 1/8" stereo input—play recorded material from a mobile device or laptop, 1/8" stereo output for headphone monitoring and sending stereo mixes.
Knobs: Soft-Touch Radial Controls
Accessories: Two Speaker Cables and Detachable Power Cable
Price: $449.99
SKU: 5437
Categories: Live Sound & Lighting, Powered Mixers
Product Short Description :
The Fender Passport CONFERENCE is a self-contained portable audio system that includes everything you need for great sound anywhere you go. Providing extremely easy operation, the Passport CONFERENCE is perfect for the layperson who needs quality with simple functionality. Carry your Passport as you would a suitcase, and simply flip open the cabinet release latches when you're ready to set it up. Inside you'll discover two full-range speaker cabinets, a powered mixer, and all the cables you'll need to get started.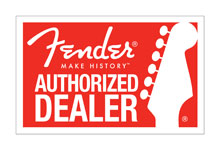 Product Gallery: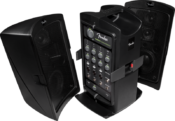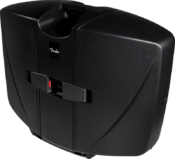 Customer Service Is Our Top Priority!