Many of Fender's Pure Vintage parts are crafted where possible on the same tooling and machinery as our original-era Fender parts. Whether you are personalizing, modifying or restoring, there is no better way to maintain the proud heritage and period-correct accuracy of your classic Fender instrument or amp.
Part#: 0990943000
UPC 885978009596
Price:
SKU: 3858
Categories: Music Accessories
Product Short Description :
FEATURES
Vintage-style molded rubber amplifier handle with two-screw mount design
Includes mounting hardware
Used on '59 Bassman®, Vibro-King®, Tone Master®, Pro Junior™ III, Blues Junior™ III, Hot Rod Deluxe™ III, Hot Rod Deville™ and Super-Sonic™ 22 head
Fender Black Dogbone Amp Handle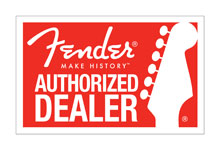 Customer Service Is Our Top Priority!