Standard Tolex Black Cases Made in the traditional shape with locking latches, vinyl ends and padded acrylic interiors, these cases offer a traditional look at an affordable price.
FEATURES
Hardshell case
Available in several color options
Vinyl exterior
Plush acrylic interior lining
Spacious storage compartment
Fits most Jaguar, Jazzmaster, Toronado®, and Jagmaster® guitars
UPC 717669822934
Price: $249.99
SKU: 1956
Categories: Instrument Cases
Tags: Guitar Case
Product Short Description :
Fender Standard Black Tolex Hard Shell Case. Fits Jazzmaster / Jaguar
Fender cases have been protecting instruments since the beginning, with classic flair that imparts good looks along with durability and portability. Not only will these versatile cases fit your Jaguar® or Jazzmaster® guitar with room to spare; there's plenty of padding to keep them scratch and damage-free. And with convenient storage compartments for accessories, you'll always be have strings, picks, straps and more in tow.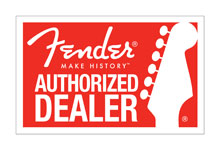 Customer Service Is Our Top Priority!