Red Label 2105 3/4 violin strings with steel core. A great student set of violin strings!
UPC 00752715021053
Price:
SKU: 5813
Categories: Other Instrument Strings, Other String Instruments
Product Short Description :
Red Label 2105 3/4 Violin Strings Steel Core
RED LABEL VIOLIN
Full core steel string with nickel winding
Recommended by Suzuki Method instructors and music teachers
Provides excellent tonal quality and dependability
Economical and durable
Designed with the student in mind for all full and fractional size violins
Product Gallery: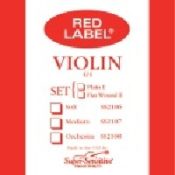 Customer Service Is Our Top Priority!