Becker 1000SC Violin Package 3/4
SYMPHONY SERIES
Crafted in Romania from select seasoned woods with graduated solid spruce top, solid maple back, maple sides, solid maple scroll and neck, inlaid purfling, ebony fingerboard, pegs, nut, saddle and tailpiece, fully fitted Bausch maple bridge, composite chinrest, four Wittner string adjusters, DAddario Prelude strings, Wittner tailpiece adjuster. Warm brown satin finish. Set up and adjusted to MENC specifications.
Accessories Included: TKL Zero Gravity backpack case, Glasser fiberglass horsehair bow, rosin
UPC 717070119401
Price:
SKU: 5464
Categories: Violins
Product Short Description :
Becker 1000SC Violin Package 3/4
Becker Stringed Instruments is dedicated to providing students, educators and school music dealers with high quality European bowed instruments expertly adjusted to meet all MENC specifications, and supporting those instruments with the highest quality service to our customers.
Save $20.00 by using coupon code [school] during checkout.
Product Gallery: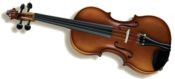 Customer Service Is Our Top Priority!