AC Voltage Input Range
Maximum AC Current Rating
15 amps (Thermal breaker)
AC Cord
3/14AWG, 10 feet, black, fixed, NEMA 5-15P plug
AC Receptacles
Rear Panel Outlets: 2 Unswitched NEMA 5 15R's (1 duplex), 6 Sequenced NEMA 5-15R's (3 duplexes each controlled by separate relay)
Front Panel: One NEMA 5-15R Convenience Outlet, Unswitched
Surge/Under-Overvoltage Protection
AC Surge Protection: SMP
Spike Protection Mode: Line to neutral, zero ground leakage
Spike Clamping Voltage: 188VAC peak @ 6,000 volts/3,000 amps
Response Time: 1 nanosecond
Maximum Surge Current: 6,500 Amps
AC Undervoltage Protection: EVS, 77VAC+/-3VAC
AC Overvoltage Protection: EVS, 145VAC+/-5VAC
AC Overvoltage Reset Modes: Manual and Auto-reset (configurable)
AC Filtering
LiFT
Noise Attenuation: Linear, 10dB @10KHz, 40dB@100KHz, 50dB@500KHz
Operating Temperature Range
5C (40F) to 40C (105F) degrees
Humidity Range
<90% rH (Relative Humidity)
User Interface
Key-switch: Front panel, 3-position key-switch (On, Off, Remote)
Keys: Included, 1 pair
Push-button Switch: Front panel, hidden by security cover
Circuit Breaker: Front panel, push-button, 15A Thermal Breaker
Front panel diagnostic indicators: Primary link, Secondary link, Ethernet, Remote off, Delay 1, Delay 2, Delay 3, Power, Protection OK, Extreme Voltage
Front Panel DIP Switches: Front panel. Hidden by security cover, 1 Minute Delay, 2 Minute Delay, 4 Minute Delay, Force Off NO/NC, 12V Mode On/Off BND Mode On, Momentary/Maintained, Primary/Secondary, EVS Reset Auto/Manual
Potentiometer: Front panel, hidden by security cover, fine tune delay adjust
Control/Status/Triggering (Rear Panel):
Remote Terminal: +5-30VDC In, 12VDC (12mA) Out
SmartSequencing: Phoenix 4-Pin Connector, Screw Terminals, Primary & Secondary Links (Current Loop – 1000' nominal)
Remote Terminal: Phoenix 4-Pin Connector With Screw Terminals; +12V, STAT, REM, GND (Class 2 Wiring)
Force Off/Delay 3 Terminal: Phoenix 5-Pin Connector With Screw Terminals, FORCE OFF, DELAY 3 (Class 2 Wiring)
RS-232 Compatible: Yes, DB-9 Connector
IP Addressability: Optional, via BB-RS232 Ethernet/RS-232 Adapter (sold separately) for IP control via Telnet, HTTP, BlueBOLT®
Voltmeter: Available with RS-232/Ethernet option, ± 2VAC accuracy
Ammeter: Available with RS-232/Ethernet option, ±1A accuracy
Power Consumption (No Load):
Safety Agency:
SKU: 3668
Categories: Power Conditioners, Recording Equipment
Tags: Surge Protectors
Product Short Description :
Call us at 800-478-1994 for all your Furman Contracting needs with sequencers and remote ports; CN-1800S, CN-2400S, CN-15MP and CN-20MP. This product is not allowed to be sold online by authorized Furman dealers, so please call for pricing and availability.
Designed for Commercial A/V Installers, the CN-1800S combines robust control capabilities via SmartSequencing™ Technology, advanced AC protection, AC noise filtration, and optional compatibility with the BlueBOLT® Remote Power and Energy Management Platform (BB-RS232 adapter required, sold separately).
The new CN-1800S is one of the first products to feature Furman's SmartSequencing™ technology, which allows large and complex A/V systems to be safely powered on and off with a simple press of a button or turn of a key, even by nontechnical personnel. SmartSequencing's bidirectional communications between installed units enables a primary unit to control and sequence multiple secondary units, ensuring multizone electronic systems are powered on and off safely and dependably from a single control point across an entire installation. Units can be connected via current loop at runs of more than 1,000 feet with backwards compatibility with Furman's legacy sequencers.
In addition, the CN-1800S offers robust control options, equipped with RS-232 ports and command sets for integration with control systems. An optional RS-232-to-Ethernet adaptor (sold separately) adds full IP-addressability to the unit, allowing it to be controlled, programmed, and monitored from a smartphone, tablet, PC, or any Web-enabled device via Telnet, direct HTTP connection, or Panamax/Furman's BlueBOLT®-hosted remote power and energy management platform.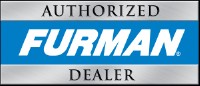 Product Gallery:


Customer Service Is Our Top Priority!