Maximum Output Current: 15 amps
Line Cord: Captive 3/14 AWG, 10 ft. black cord with NEMA 15 plug
Pull-out Lights: Two multi-LED, dimmable lamps
BNC Socket w/Switch: Rear rack lamp, 12VAC 500MA maxx (lamp not included)
Operating Voltage: 90 to 139 VAC
Spike Protection Mode: Line to neutral, zero ground leakage
Spike Clamping Voltage: 188 VAC peak @ 3,000 Amps
Response Time: 1 nanosecond
Maximum Surge Current: 6,500 Amps
Noise Attenuation: 10 dB @ 10 kHz, 40 dB @ 100 kHz, 50 dB @ 500 kHz
Dimensions: 19" W x 10.5" D x 1.75" H
Weight: 12 lbs.
Power Consumption: 12 watts
Safety Listing: cTUVus
Price:
SKU: 5943
Categories: Power Conditioners, Recording Equipment
Tags: Surge Protectors
Product Short Description :
The Classic Series from Furman brings together superior protection and outstanding performance in a sturdy, rack-mountable design. The Classic Series features Furman's revolutionary Series Multi-Stage Protection (SMP), Linear Filtering Technology (LiFT), and Extreme Voltage Shutdown (EVS). Together, these technologies comprise what is, without question, one of the world's most advanced and comprehensive transient voltage surge supressors.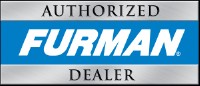 Product Gallery:

Customer Service Is Our Top Priority!